The Beginners Weight Training eBook
Dynamic weight training's beginners weight training eBook is aimed specifically at beginners. This is an easy comprehensive read for anyone interested in weight training at the beginner's level.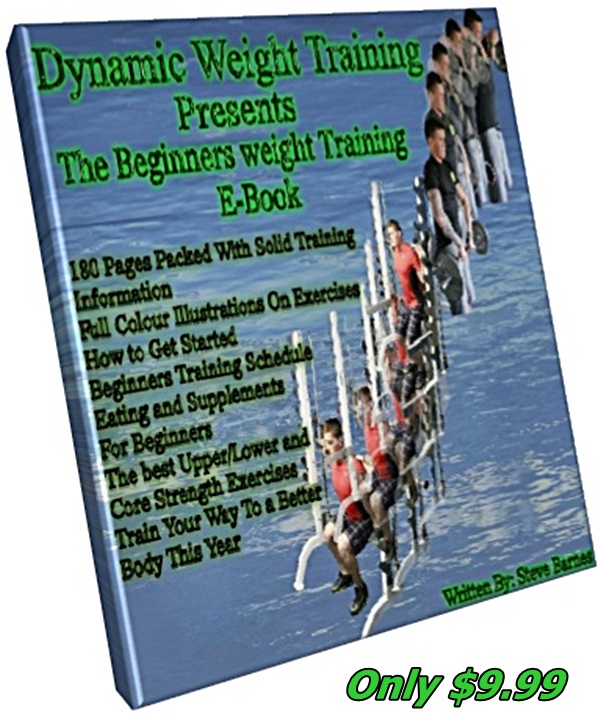 Cover of E-Book is for illustrative purposes only
This beginners weight training eBook has been an exhaustive effort of photos and informational content over the last year or so. I have personally compiled all of the information and images in the eBook. And as mentioned before, I have tried to keep it directed to you as a beginner.

This book is approximately 190 pages with many inspiring illustrations and sequential exercise images, to give you a physical view of how to perform the exercises along with written content describing what the exercises do and what muscles are being trained with each exercise, including tips and techniques for each exercise to help you get more out of each exercise at the beginners weight training level.
This book started out at just over 100 pages a year ago, but… I decided to add more to the book as time went on. The book also goes into better choices of foods and eating habits, directed to the beginner's level, also included; is an entire chapter devoted to supplementation for beginners.
The exercises listed within the beginners weight training eBook chapters are broken down into upper and lower body. The exercises are central to free weight, (some machine) and body weight-based compound exercises, meaning: multi-joint, and are not specific to isolation exercises which as a beginner are not necessary.
The eBook also comes with a training schedule, with the exercises listed, and an explanation of how to set up your schedule, breaking the body down into upper and lower, will give you a better response and recovery time  to the exercises and your weekly body part training schedule.
I also go into explanation of goal setting and how to reduce the chances of failure in weight training for beginners. A lot of the meat and potatoes of the beginners eBook is centered around the training exercises themselves; with that said: there is a lot of informational content aimed at how to focus and view beginners weight training and incorporate these into your everyday life, to make it a manageable lifestyle.
Beginners Weight Training eBook Chapter Over V
iew
 E-Book Table of contents

Chapter 1 – Introduction to weight training beginner's e-book… Page 4
Chapter 2 – legal statement disclaimer… Page 8
Chapter 3 – What are compound exercises… Page 9
Chapter 4 – Starting out as a beginner… page 12
Chapter 5 – Why we fail in our training programs?… page 14
Chapter 6 – Planning your goals… page 18
Chapter 7 – Finding and choosing a gym that suits your goals… Page 22
Chapter 8 – Training at home… Page 25
Chapter 9 – Compound movements versus isolation… Page 30
Chapter 10 – The warm-up?… Page 40
Chapter 11 – introduction to body parts starting with the Shoulders… Page 43
Upper Body
Chapter 12 – Compound exercises for the Deltoids… Page 48
Chapter 13 – Introduction to the Pectoral muscles… Page 54
Chapter 14 – Compound Exercises for the Pectorals… Page 58
Chapter 15 – The muscles of the extreme upper back the Trapezius… Page 67
Chapter 16 – Compound exercises for the Trapezius… Page 71
Chapter 17 – Introduction to the upper back the Lats… Page 76
Chapter 18 – Exercises for the Lats… Page 81
Chapter 19 – Exercises for the Lower back… Page 90
Chapter 20 – Introduction to the upper arms… Page 93
Chapter 21 – Compound exercises for the Biceps… Page 99
Chapter 22 – Introduction to the Triceps… Page 105
Chapter 23 – Compound exercises for the Triceps… Page 109
Chapter 24 – Introduction to the Abdominals… Page 116
Chapter 25 – Exercises for the Abdominals… Page 124
The lower body
Chapter 26 - Introduction to the Legs… Page 130
Chapter 27 - Exercises for the Quadriceps… Page 136
Chapter 28 - The Leg Biceps and their function… Page 143
Chapter 29 - Exercises for the Leg Biceps… Page 147
Chapter 30 - Introduction to the lower legs: the Calves… Page 153
Chapter 31 - Exercises for the Calves… Page 156
Chapter 32 - Upper and Lower body, weight training routine/schedule… Page 164
Chapter 33 - Safety and Injuries… Page 168
Chapter 34 - Beginners Guide to Supplements and Better Eating… Page 171
Concluding… Page 190
So what I have done is: I have tried to keep the beginners weight training eBook moderately priced for a beginner's budget. I'm not interested in trying to make $20.00 or $30.00 per eBook on everyone; I want this to be a reasonably priced book, simple and easy to use for the cost, if you so choose to buy it...
I want it to be for everyone, age, gender and lifestyle doesn't matter with this eBook, it's easy to understand as I've said, and directed to everyone at a beginner level.
All I ask is that as a beginner. Check with your family or health care physician before you start unless; you are strongly sports minded and are in reasonably good condition to begin with. The beginners weight training eBook is priced as fair as I can, at a $9.99 price break for you. It's a fair deal, given the effort of the content, images and time it took to create it.
Dynamic weight training the beginners weight training eBook, You're Ordering Information
The beginner's eBook is offered and available in a PDF format only, (no hard copies are available). If you don't have a PDF reader you can download one for free from Adobe. There are also PDF apps available for tablets and smart phones, if this is how you wish to view your eBook

To order: simply click on the Buy Now button below and you can be reading your copy of the Beginners Weight Training eBook, to get yourself in better shape for the coming new year and start reading within minutes of your purchase.
Beginner's eBook only $9.99
                             You're Money Back Guarantee? 
I will back up the Beginners Weight Training eBook purchase with a full money back guarantee – this virtually makes your purchase risk-free. If you simply do not find the information contained within the eBook useful, Dynamic Weight Training.Com will back the beginner's eBook with the no quibble 100% money back guarantee for the total price originally charged to you of $9.99.
Simply; go to the contact me page within 30 days from the purchase date and request a refund along with the original transaction or order number and I would appreciate a simple explanation of why you're requesting a refund for the eBook. Again, please remember, this is an eBook and there are no hard copies available. To you as beginners, I wish you Good luck and happy training.