Fun Recipes For Bodybuilding
If you're looking for recipes for bodybuilding that are easy, fast and healthy, and wondering if this can be done? Yes, certainly! With some Creativity, a little time management and some planning goes a long way towards building that better body.
I often get more questions about diet, than I do on weight training and exercise habits. And nowhere in bodybuilding do I hear more complaining about how psychologically demanding it is to try to eat properly throughout your day. This just seems to be one of the biggest stumbling blocks for most people.
I realize that not everybody enjoys weight training, its demands and never ending hard work can seem like a cruel mistress… But I've never met a single soul that didn't like eating, and that's what this page is about, it's about fun and enjoying your food, being creative with your life and eating habits.
So many people even in today's times seem to neglect or dis-concern themselves with better, healthier eating habits and choices.
This is especially common and found in the younger generation.
Good wholesome foods with fresh fruit, vegetables, along with enough carbs and protein to fuel and mend your body throughout your daily activities is not suggested...
it's imperative, to reaping the rewards of a healthy, energetic lifestyle.
Sustainable energy from the proper food groups is exactly what good clean fuel is to your car.
Simply put: if you forget to gas-up your car, you're probably not going very far.
Rise And Shine Starting The Morning Off Right
Lifestyles are busy and fast-paced starting the morning off right with a good breakfast as we all know, is so important to setting the stage for your energy levels to start the day.

Whether you're a weightlifter, power lifter, bodybuilder or perhaps you just love playing casual sports or jogging in the mornings or evenings. I have tried to choose meals from my own recipes that can be prepared quickly to coincide with faster paced lives.
These dishes were prepared and made in the Dynamic Weight Training kitchen. There designed to move through your system quickly boosting your metabolism; while sustaining muscle growth and encouraging a strong fat burning affect.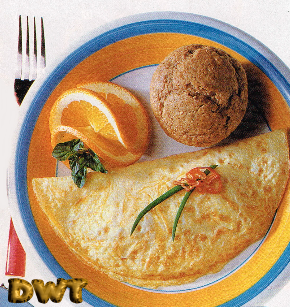 Egg omelette: this is a simple 4 egg omelette with yolks mixed-in and cooked with a small sprinkle of low-fat cheese in a nonstick pan for 10 to 15 minutes, folded then served with a bran muffin and garnish of orange.
Note: the great thing about an omelette is; you can add fruits, vegetables, or even extra meat to them if you wish, especially if you're expecting a day of heavy activity.
If you have the bran muffin on hand, it can be heated for 10 or 15 seconds in the microwave to warm it up for breakfast consumption. This meal is small and light and should move through your system quickly as the morning progresses.
Approximate protein value is 22 to 24 g. This breakfast takes approximately 10 to 15 mins to complete.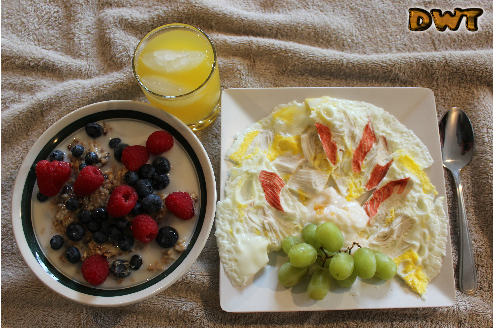 Eggs and oatmeal: the oatmeal is steel cut large flakes of oatmeal with nuts, flax seed, bran - manufactured by Rogers. 1 cup of the oatmeal was added to boiling water with a small handful of raisins for 5 to 8 minutes, then removed from heat to cool. 
While the oatmeal cools, break open three or four large eggs with half the yolks onto a plate and microwave for 2 minutes, some Pollock/imitation crab was added for flavor to increase protein value. The slabs of cooked egg were then quartered and added to the plate with a vine of grapes.
A small handful of blueberries and raspberries were added to the cereal bowl along with vanilla flavoured almond milk, which is low in calories and fat. A a low-calorie small drink of mango juice was added; in all there is about 20 to 25 g of protein here.
Between 250 and 300 days a year, I enjoy this same breakfast; it sustains my morning energy needs perfectly. I adjust the portions to what my activity level is going to be that day. Total time to completion, 10 to 12 minutes.
  Dana's Whole wheat protein waffles: these were made with a whole wheat waffle mix with 25 g of powdered protein mixed and cooked in a waffle iron for a few minutes then set on a breakfast plate.
Some fruit cocktail, fresh-cut peaches and bananas were added for some simple carbs. This gives the metabolism a nice boost to burn off the whole wheat and protein of the waffles.
This starts the day off with a manageable sustaining breakfast, time to make until completion 15 to 20 mins.
 Eat your Wheaties: this breakfast dish has a 1/2 cup of granola in the bottom of the bowl, topped with two shredded wheat biscuits on top, with slices of banana and

nectarine, a sprinkle of blueberries and a few sliced dates were added for flavor...
The dish was then topped off with low-calorie/fat almond milk.
A manageable size protein drink was then made with a 1/3 cup of water, 2 egg whites (no yolks), 25 gm of protein powder, half a banana, a handful of frozen mangoes and 2 tablespoons low-fat yogourt; garnished with one orange slice.
When it comes to recipes for bodybuilding, extra protein in the form of food or shakes is always a part of bodybuilding nutritional requirements, if you're not a bodybuilder or weightlifter, you can easily reduce all the portions shown on this page, to suit your activities and daily lifestyle. Time to completion 5 to 8 mins.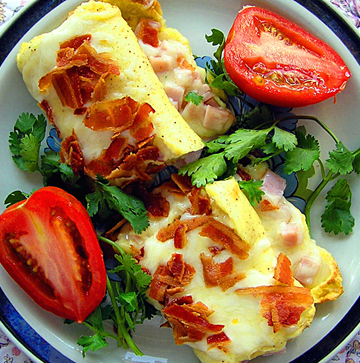 Egg wrap: For bacon and egg lovers, this little breakfast recipe may help with your urges. Four or five eggs with a light sprinkle of low-fat meat/veggies over the eggs, in a nonstick pan. As they cook, add or decrease the amount of eggs to match appetite or daily activity level.
After 4 or 5 minutes at a medium heat, roll the omelette into a wrap style look as shown here; sprinkle with well cooked bacon bits that are squeezed to remove the rest of the fat. The flavor of the bacon will still be on the omelette.
You can garnish this with fruit or vegetables, depending on your mornings taste/pallet. time to completion, approximately 10 to 15 minutes.
Berry breakfast: this little morsel is created with 1-1/2 cups of raw granola, a small handful of raisins were added to the granola for flavor and a handful of blueberries

and raspberries were sprinkled on top. Low-fat, low-calorie almond milk was added to complete the cereal.
Extra-large eggs boiled for 12 minutes were added, along with a -1/2 to 3/4 cup of low-fat/calorie yoplait with almond sprinkles were added to the breakfast plate to add extra protein.
A few banana slices  and the small Vine of grapes were added for metabolism. Recipes for bodybuilding should include enough of the macros such as carbs, protein and fats, this breakfast does just that. Time to completion 10 to 15 mins.
Note: this is a large breakfast, if you work behind a counter or desk and your physical activity is not high, cut the portions in half. If you're very or highly active in your day, this portion size probably will be close to your needs.

 Recipes For Bodybuilding, Is About Time Management!
Lunchtime: whether you're a bodybuilder or not, it's also a very important meal, not only is it obvious that this is a biological feeding time for us, but it's even more important that you ingest the right foods at lunchtime.
Wraps can be ordered in most restaurants or made at home in the morning and taken to work for lunch as an easy, affordable digestible meal.
Try to avoid eating heavy breads or pastas or simply eating too much for lunch. Eating lighter nutritious foods at this hour helps with bloating, becoming tired or experiencing the afternoon doldrums.
Try to break down your order of thinking, instead: don't pack enough, or order enough food at lunch to feel-to-full.
Don't eat your lunch to quickly, enjoy the food you've prepared or ordered. Make sure your food is going to help energize and boost your metabolism with good nutritious choices that kick-start your metabolism, instead of slowing it.
 Chicken pasta salad: chicken breast was precooked from night before at 350°F for 20 minutes to speed lunchtime making efforts; 

two large tablespoons of rice were added to the plate with some cucumber nectarine and pineapple slices.
2 to 3 large tablespoons of pasta salad were added to the center of the plate with a sprinkle of Cranberry raisins and nuts, salad was then garnished with a few black olives.
A small glass of iced tea was added for a beverage, this meal is small and light; for someone that's highly active, again adjust portions for your activity level. 
Note: small meals like these that have been precooked or partially precooked, can easily be taken in a Tupperware container to the office or wherever you work and reheated or even eaten as a cold lunch, if you wish. Total time to prepare meal if precooked 5 –10 minutes.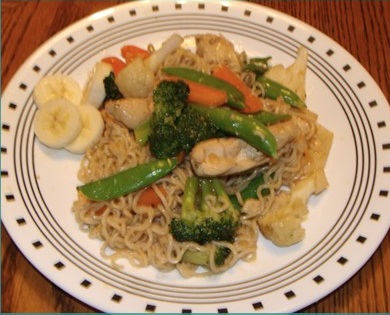 Vegetable chicken and noodle stir fry: one of my all-time lunchtime and sometimes favorite evening meals. Stir-fry is very hearty, digests easily and is loaded with protein, carbs and veggies; this is a great nutritious lunch.
Boil Chinese noodles (without spice pack) for 10 to 12 minutes, slice up 6 to 8 ounce chicken breast, bake/sear or cook in pan until done. Lightly cook a handful green peas, broccoli, cauliflower and baby carrots, for 5 minutes.
Put noodles on plate, sprinkle precooked chicken and vegetables on top, bananas were added as garnish. By all means: add whatever fruit you wish, to help boost metabolism through the afternoon. This can even be taken in a microwavable container and heated at the office, if need be.
Completion time to make this meal is approximately 15 to 20 minutes.
 Chicken salad: when you're creating and cooking recipes for bodybuilding use your time effectively, cook and prepare meats,

chicken, boiled eggs, etc., in advance for the next day, or even for a few days ahead.
I precooked a large chicken breast the day before and put it in a sealed container in the fridge. The next day I only sliced half the chicken breast laying it on a small salad - that of course can be of your choice and design.
I added a small sprinkle of Cranberry raisins and nuts to the salad, one boiled egg, a few cucumbers and cherry tomatoes finished the salad with a very low-calorie mango fruit juice. If you've prepared the meat, chicken, etc. for this salad total prep time is 10 to 15 minutes with the boiling of the egg.
As a friendly dietary note: on food addiction
Every time you purchase food at your local supermarket if it's packaged in a box, can or a bag, chances are high, additives have been added.
Simply put: additives add two things, a longer shelf life and sometimes addiction; recipes for bodybuilding should have little to do with either.
Food additives come in many different forms, usually higher levels of sodium, sugars, fats/cholesterol, caffeine etc. including a host of others that I won't mention; that can go into these foods. Just be sure to read labels and know what your purchasing.
Here's the game changer for everyone who's interested in recipes for bodybuilding, Food processing manufactures add these simple additives, to keep you craving there food every few hours.
Healthy, raw foods that have not been processed will never give you these cravings. These are very sustainable meals designed to give you 2 to 4 hours of healthy energy or fuel for your body to burn.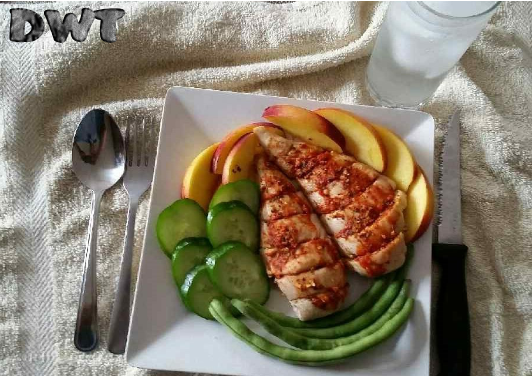 Baked chicken breast: these are 6 to 7 ounce chicken breasts, they're baked in the oven at 350°F for 15 minutes or until done, the breasts are then pulled out and sliced as you can see. A light covering of tomato sauce is added and applied between the layers of chicken to add flavor inside...
Salt free chicken spice, Mrs dash and a few chopped almonds were added, then baked again for 10 minutes or until cooked.
Sliced nectarine, cucumbers and green beans, were added for carbs and fiber. If you have everything on hand. This meal provides  great protein and carbs for energy. This whole meal to prepare takes about 20 to 25 minutes.
  Stuffed peppers: using 2 medium to large size peppers as shown; cut the tops off and clean out the inner core. As this is being done, cook a small amount of brown or white rice, approx 1/3 cup, once the rice is cooked after 15 to 18 minutes, prepare your lean ground beef by adding the rice to the beef.
Roll the burger into balls a little smaller than the size of your fist, bake in the oven for 10 to 15 minutes, at 350- 375°F. Remove and push Burger into peppers, you can garnish with low-fat cheese if you wish. Bake in oven for another 10 to 15 minutes or until burger is cooked.
Deviled eggs were added for extra protein, and a green sprig of broccoli for some fiber, time to make meal is approximately 25 to 35 minutes.
  For meat lovers: this is a 10 ounce lean steak barbecued to medium, lightly squeezed to remove excess fat, a small amount of salad mixed with green peppers slices of cabbage and kale was added for fiber next to the steak.
Some salt free Montreal steak spice and Mrs Dash were added to steak for flavor. Some half inch slices of yams were also added and cooked in the microwave for two minutes, with a potato spice added to them, garnished with a few cut cherry tomatoes and slices of orange, completed the dinner plate.
Adjust the steak size to your activity level, because this is a bigger heartier meal, I like to use this as a post workout meal. If you have everything on hand, total prep time to completion, approximately 20 minutes.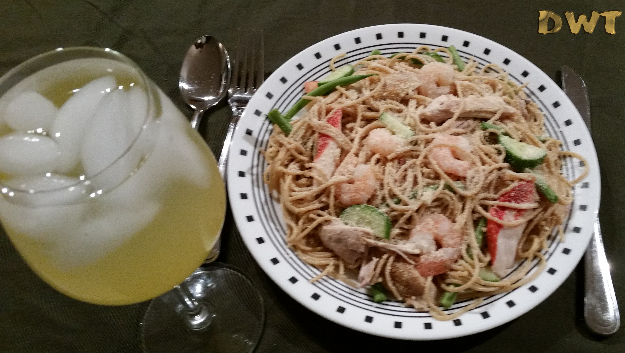 Pasta seafood delight: This recipe is made with whole wheat pasta that was boiled at the medium heat for 20 minutes. The shrimp came frozen but precooked, the shrimp were boiled for 5 to 7 minutes, then fresh imitation crab and pre cooked slices of chicken breast added.
Some cucumber slices green beans and peppers were also added, followed with  a small sprinkle  of Parmesan (optional), served with beverage.
I love making this meal total time is 20 to 25 minutes and your supper is hot, tasty and nutritious. I like this meal for a few reasons...
it's easy to make, tastes great and it's very easy on the stomach, in other words: it goes through your system easily, optimizing nutrition extraction and no bloating as in some other dishes, I highly recommend this meal if you're trying to keep your weight under control.
  Fresh trout: these fresh trout were caught in the stream next to the house, but fresh trout can be purchased from any local grocery or supermarket store.  The trout was sprinkled with salmon and basil spices and baked with a small layer of onions for 20 or 25 minutes until cooked at 325°F.
While the fish is cooking, begin to prepare potatoes, once fish is cooked set on a plate of spinach leaves, small potatoes were quartered and had tomato and basil spice added and cooked in the microwave for 2 1/2 mins.
Slices of orange and cherry tomatoes where then added for flavor and digestion, served with a small beverage of Ice-T. Total time for meal completion is 20 to 25 minutes.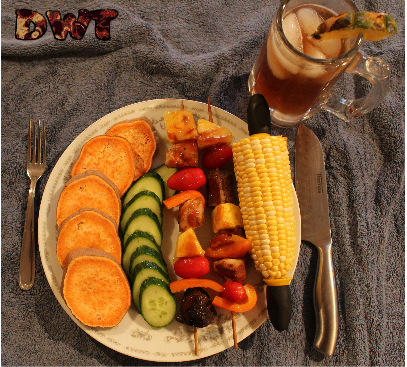 Kebabs and corn night: I know this looks like a large filling meal; but, there is not as much meat or chicken on the kebabs as you might think, the plate is loaded with lots of complex carbs. Add or remove as much meat or chicken to the kebabs as you feel you need for protein consumption.
The chicken and meat were lightly cooked and seared in a fry pan for 10-12 minutes then the kebabs were assembled with pineapple, peppers, tomatoes, etc. and baked for another 10 or 15 minutes at 375° F, with a light barbecue sauce.
You can use your own creativity and put what you wish on your kebabs. 
The rest of this dinner plate is fixed with baked yams raw cucumbers and boiled sweet corn for 10 minutes on the side. If you have this food on hand, meal takes approximately 25 minutes to make.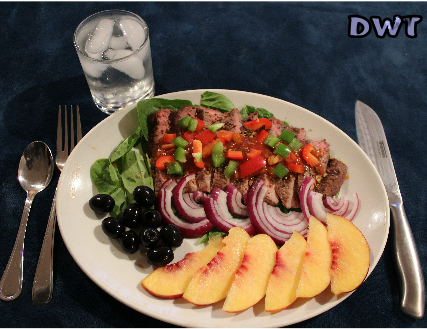 Steak and salsa: a 8 ounce steak was barbecued to medium, sliced into half-inch pieces and laid on a thin bed of spinach. A small amount of peach and mango salsa was sprinkled over the center with a small handful of green and orange peppers added to the top of the steak.
A few onions were added, but that of course can be optional depending on your taste buds. I also added some slices of nectarine and the small handful of black olives, a glass of water was served as a beverage.
If you have everything on hand and your oven preheated; total time to prepare this meal was approximately 20-22 minutes
  Whole-wheat spaghetti and meatballs: add whole-wheat spaghetti to pot of boiling water. Cook for 15 to 20 minutes until done. While spaghetti is cooking prepare the lean beef meatballs onto baking pan, approximately 1-1/2 inch in diameter.
Salt free meat spice, basil and Sage were added to the meatballs for flavor...
Bake meatballs at 350°F for 15 to 20 minutes, drain off excess fat/oil, turn meatballs on pan and re-bake until cooked through. Once spaghetti is cooked, drain off excess water, add to plate what you think you can eat and pour on spaghetti sauce.
A low-calorie tomato sauce was used here; using a small pan, heat sauce to desired temperature. You can make your own, but it does take more time. also added were some peppers for flavor and looks, a small sprinkle of Parmesan was added and served with green beans.
Time for meal completion 30 to 40 mins. 
  Fish and rice: this dish consists of three thinly sliced fillets of soul, cooked at 300°F for 15 minutes, then pulled out of oven with a light tomato sauce added, salmon and Mrs dash spices were added for flavor, back in oven for another 7 or 8 minutes to finish then remove.
As fillets are cooking, cook white Japanese rice for 15 or 18 minutes until cooked, add a sprinkle of raisins instead of butter, margarine/becel, spread on plate and add fillets on top of the rice.
Slices of apples, cherry tomatoes and a small vine of grapes and asparagus were added for fiber, flavor and help stimulate meal digestion. Time to cook to completion approximately 20 to 25 minutes.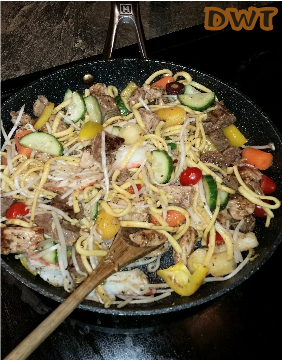 Meat and Veggie Stir Fry: this is another very hearty pan-fry meal. I often make this meal big enough to have two large helpings, this of course is up to you.
Slice 1 to 2 chicken breasts into 1 inch cubes, one 8 -10 ounce (lean steak), also sliced into cubes, cook to desired texture. In the meantime I add two large handfuls of (German egg noodles) and boil for 5 to 7 minutes, just long enough for them to soften. Then cut up:
1/4 of an English cucumber
0ne handful of cherry tomatoes
Two handfuls of bean sprouts
3/4 cup of imitation crab or (Pollock)
1 cup of diced carrots
Once the chicken/meet is cooked, add the rest of the ingredients including the (German egg noodles), I try to refrain from unwanted calories by not using cooking oils, this is your choice. Add spices to suit your taste, salt free Montreal steak and tomato spices were added for flavor. if you like your food with more zing by all means add some Tabasco or other substitute.
Total time to meal completion 20 -22 mins, if meet/chicken is thawed and other ingredients are on hand.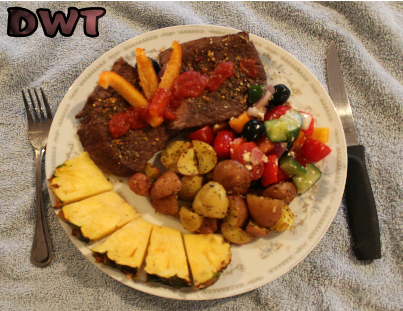 Meat and potato lovers: this is a 10 ounce steak cooked to a medium completion at 350°F. Garnish of orange peppers, salt free steak spice and Mrs dash – were added, with a light sprinkle of tomato sauce you can substitute for barbecue sauce If you wish.
Golf ball sized potatoes were cut and quartered and baked for 2 1/2 minutes in the microwave. They have a very light sprinkle of olive oil to hold potato, basil and Mrs – dash spices to them.
Approx. 3/4 of a cup of Greek salad  was added for flavor and fiber, slice of pineapple is also added for flavor and greatly assists in digestion of protein. Time to completion of this meal, 25 to 30 minutes.
---
Concluding recipes for bodybuilding:

You may not believe this but eating a little healthier: is easier than you might think or than it looks. Either way, most people whether they weight train or not, will usually eat three meals a day. Breakfast, lunch and supper.
If you notice: all of the recipes for bodybuilding here; have been prepared low in fat - cholesterol and sodium. The recipes are for everyone of all ages and genders to enjoy, they have been created to not only energize and stabilize energy requirements, they're also very heart friendly!
Eating healthy has more to do with you making a decision to make a positive dietary changes in life. So... you or your spouse more than likely are already preparing food to eat anyway, so with a little creativity and pre-planning, eating healthy becomes much easier.
Try to avoid sweet sauces, dressings, or gravy on your food, (unless low in calorie/fats), if you can, or use them sparingly. Instead; add spices to the foods that you like for flavor, while adding some new healthier choices that you know and love to your new diet plan.
I will let you in on a little secret about healthy eating and diet planning, when you shop at your local supermarket...
The healthier choices are often found on the outside aisles. The next time you visit your supermarket, walk down the interior aisles and see what's in them. Most of its canned goods, bags or boxes full of sugars and fats, that have higher cholesterol and sodium, which is everything we don't need to enjoy a healthy life.
                                                            DWT!